Make text bigger | Make text smaller
Why study here?
It is with deep sadness that we have to announce that due to the recent recession leading to falling student numbers, the school will not be continuing in its current form. We find ourselves in the unfortunate position that new intakes cannot now balance the loss of students from the programmes and therefore there will now be no BSc, MSc, Aromatherapy and Massage intake from October 2010.
The correspondence course will continue for the present and we are looking to see which Universities will accept it officially as an access course for their herbal programmes.
Further enquiries should be directed to sshm@herbalmedicine.org.uk
Our courses are offered in a modular fashion to allow you to study whilst working, but our interactive learning model offers a greater depth of understanding than could normally be conveyed in this time. Learning about something as fascinating as the workings of the human body certainly doesn't have to be a grind! We hope you will enjoy your time with us and we will use our combined knowledge to help you develop the skills you need for professional practice.
What we offer:
Class sizes are small to ensure that each student is treated as an individual with unique requirements

Experienced tutors who are professionally practicing in their field

Unique concept of training "herbal practitioners" with an energetic approach to herbs

We are keen for our students to gain a personal relationship with the plants. We have developed the Pharmacology of Taste as a unique learning tool. This leads to direct personal experience of all the herbs that are taught via blind tasting and allows our students to have a powerful understanding of any plant they will be later prescribing for others

Vegan founders are strong advocates for non animal based, holistic and contemplative research methods and are actively developing and applying these more relevant methods to Herbal Medicine

University of Wales validated BSc, PGCert, PGDip and MSc courses

Massage and Aromatherapy Diplomas are validated by the International Therapies Examination Council (ITEC)

Our BSc Degree is accredited by the National Institute of Medical Herbalists (NIMH)

Balance of science and art in teaching and seek to further knowledge of herbal medicine for its personal and planetary benefits. This philosophy pervades all that we do
What qualifications can I get?
The School offers a range of professional training courses, including International Therapies Examination Council (ITEC) Diplomas in Therapeutic Massage and Clinical Aromatherapy and Herbal Medicine courses from introductory Home Help Evening Classes and Correspondence Courses to a professional BSc(Hons) Degree and MSc/PGDip/PGCert qualification.
Our BSc (Hons) Degree in Herbal Medicine was externally validated by the University of Wales in 1998 and accredited by the National Institute of Medical Herbalists (NIMH) in September 2000 and our PGDip/MSc programme was validated by the University of Wales in October 2000 and successfully revalidated for five years at its Quinquennial review in 2007. Our new Postgraduate Certificate in Holistic Research Methods was successfully validated in July 2009.
What are the job-prospects?
As Complementary Therapies enjoy a surge into mainstream popularity, there are many openings for properly qualified, motivated individuals to create a positive career for themselves, either on a self-employed basis or within existing companies. The majority of our graduates choose the popular route of the self-employed practitioner, often sharing clinic space with practitioners from other disciplines. Our courses incorporate internationally recognised qualifications that are fully eligible for professional insurances. So, whilst we can't promise you a job, we can promise a life enhancing course that will give you the skills you need to help carve out your own career path.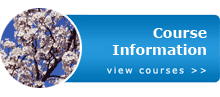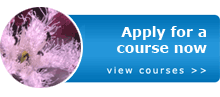 Mar 26, 2010
Open access evening course in Herbal Medicine runs from 7th April 2010
Mar 4, 2010
The Spring/Summer issue of The Scottish Journal of Herbal Medicine (formerly The Herbalist's Journal of Contemplative Science) will be here soon.