Make text bigger | Make text smaller
Case Studies
What our MSc students say...

"My Master's degree has been very helpful in starting and teaching in a new program on herbalism at the Minneapolis Community Technical College. This is one of the very few programs on herbalism in the United States. Yesterday we had a stimulating discussion of scientific papers in class, a discussion that would have been impossible for me before undertaking my education at SSHM. Having an MSc puts me in a higher income bracket at MCTC. Love my degree, the School, loved the program. Still basking in the light thereof."
Matthew Wood AHG MSc (Herbal Medicine)

"Upon graduating from the School of Phytotherapy in Tunbridge Wells in 1987 after nearly 4 years of schooling, I felt competent as a herbalist. After 5 years of practice I felt good at my work. After 10 years of practice I felt skilled at my craft. And after 15 years of practice I went back to school because I knew I needed a whole fresh perspective. Doing the MSc course at SSHM allowed me to take stock of my profession and to re-vision my work entirely. I am a much better practitioner and enjoy a much deeper and richer relationship with my work since doing the course."
Chanchal Cabrera MNIMH MSc (Herbal Medicine)

"The Scottish School of Herbal Medicine MSc has served to substantially broaden my horizons in terms of my practice as an herbalist and helped me to evolve into a more rounded practitioner. I have benefitted hugely from learning methods such as Goethean study and have left the course rich in terms of both the knowledge and lasting friendships of the colleagues with which I have studied, and the deeper and broader nature of my understanding of the practice of the rich tradition of Herbal Medicine. I would thoroughly recommend this course."
Mary Tassell MNIMH MSc (Herbal Medicine)

"Going into the MSc I envisaged a linear progression of knowledge, what actually happened was an explosion in many directions! Goethian study - now an integral part of my life with at least two formal study weekends a year bringing me closer to the plants and the heart of the planet. Energetic principles - altering my practice and bringing in more and better satisfied patients. Research methodology - giving me the confidence to approach and hold my own with medical academics in pursuit of running a holistic, energetic clinical trial (still some time off but it will happen!). I can truly say the SSHM MSc was one of the best things I have ever done."
Fiona Taylor MNIMH MSc (Herbal Medicine)
"Studying for the Master's degree with the SSHM opened me up to a way of approaching my practice which uses all of my senses and doesn't rely totally on the intellect. I was able to become more confident about trusting my instincts and intuition - and being able to integrate these with the more 'research-based' approach which seems to be the gold standard in today's world. Speaking of research - I also learned how to appraise research findings with a critical eye, which has led to my becoming part of a peer-reviewing panel for a journal on research in primary health care. Learning to study plants using the Goethean method has helped me get to know the plants I use much more deeply - "New eyes for plants" indeed. AND I discovered that I can do botanical illustrations! Hard work - definitely; stressful - sometimes; different - indisputably; fun - oh yes! Would I have missed it? - not for the world!"
Alison Morton MNIMH MSc (Herbal Medicine)
What our BSc students say...
"Time and dedication given by the qualified herbalists and their general approachability - is fantastic."

"Lots of laughs and inspirational moments to keep one afloat in all the hard work."

"Having a small group and having interactive lessons and discussions."

"Interesting, enjoyable, creative - often learning is not all of these things."

"Overall I am very happy with the course - probably the best in the World."

"The School's political and philosophical approach to the subjects and teaching methods is marvellous."

"Entertaining but clearly explained lectures."

"Learning about the human body made me realise what a miracle it is."

"Fantastic to have so many inspirational practitioners to give us a taste of their wisdom."
"Starting to feel like a trainee herbalist rather than a student."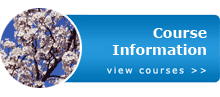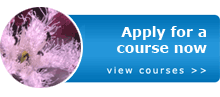 Mar 26, 2010
Open access evening course in Herbal Medicine runs from 7th April 2010
Mar 4, 2010
The Spring/Summer issue of The Scottish Journal of Herbal Medicine (formerly The Herbalist's Journal of Contemplative Science) will be here soon.