Make text bigger | Make text smaller
Jacqueline Teresa Cooper
Can herbs assist us on the path to enlightenment?
Abstract
The intention of this research is to examine whether herbs assist us on the path to Enlightenment, and if so, how.
Literature searches were carried out and comparison was made between the Buddhist teachings, in which a human body manifests as a result of the mind poisons, and Ayurveda, in which similar emotions are associated with Tridosha, and which Ayurveda seeks to balance for health.
Searches were then carried out on the herbs, including three in particular; Hydrocotyl asiatica, Glycyrrhiza glabra and Zingiber officinale, of which Hydrocotyl asiatica is already associated with spiritual practice, to ascertain how they may assist the individual.
What was discovered during this research was that there are many elements to the benefits of plants in spiritual practice. In addition to their effect on the emotions which hinder our spiritual development, through balance of the doshas, the herbs may also work influence us through transmission of prana or life force, sattvic herbs may promote clarity, and others contain Ojas, spiritual energy. Plants may also be divine in their own right.
Also discovered was that although Ayurveda is a very practical system for helping the individual to live in balance, Buddhism and Ayurveda developed alongside each other, and they may have many similarities because ultimately the goal of each is to attain Enlightenment.
Although in Ayurveda there is a strong correlation between the plants helping to overcome negative emotions, the same negative emotions which must be overcome for Enlightenment, there is no evidence that plants are used directly in this way, except perhaps, Hydrocotyl asiatica for meditation.
The conclusion reached was that the plants do assist us on the path to Enlightenment, but there are many aspects to their influence. At the very least, they work indirectly, because of their effect on the emotions.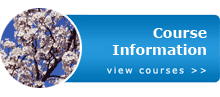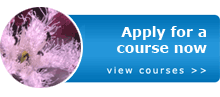 Mar 26, 2010
Open access evening course in Herbal Medicine runs from 7th April 2010
Mar 4, 2010
The Spring/Summer issue of The Scottish Journal of Herbal Medicine (formerly The Herbalist's Journal of Contemplative Science) will be here soon.